Last Updated on March 16, 2022
Nicki Minaj, known for her bouffant shapes, outlandish outfits, and striking images, is currently the richest female rapper in the history of the genre, as well as a social media star and she has an estimated net worth of 100 million dollars. She has been able to rise to the top of musical Olympus in the United States and has held that high bar for several years in a row. Few genre fans haven't heard her Superbass, Starships, Anaconda, or Chun-Li.

In this arctile we will tell you about interesting moments from the life of Nicki Minaj.
| | |
| --- | --- |
| Net Worth | 100 000 000 $ |
| Born | December 8, 1982, Saint James, Port of Spain, Trinidad and Tobago |
| Residence | – |
| Occupation | Rapper, Singer |
Nicki Minaj's childhood
Onika Tanya Maraj-Petty (that's Nicki Minaj's real name) was born on December 8, 1982 in the capital of the Caribbean Republic of Trinidad and Tobago. As a child, Onika and her 3-year older brother Jelani were raised by her grandmother while the little girl's parents were settling down in Queens, an immigrant borough of New York City.
Nicki Minaj's musical talents emerged at an early age. She took classes at Elizabeth Blackwell Middle School for music and Fiorello H. LaGuardia, played the clarinet in the school orchestra, and participated in theatrical productions. However, the girl's main dream has always been to sing. She started rapping at the age of 12.
The beginning of her music career
In 2004, Nicki Minaj joined the rap group Hoodstars, which is remembered for creating songs for WWE wrestlers. But the long-awaited fame never came, and soon Nicki left the group, deciding to pursue a solo career. She uploaded several demos of her songs to the social network MySpace and sent them to prominent industry people. The Dirty Money Entertainment label responded and offered her a collaboration. That's when the Nicki Minaj pseudonym was born.
In 2007 Nicki released her debut mixtape "Playtime is Over", followed by the mixtape "Sucka free". In 2008, she was named artist of the year at the Underground Music Awards.
In 2009, rapper Lil Wayne heard Nicki Minaj's songs. He offered her a contract with his label Young Money. Minaj became the first female artist in the label's history. She debuted with a solo verse in the single "Bed Rock", which was a commercial success and permanently made her way to the top of the music charts. Mariah Carey then invited the young artist to record a joint composition "Up Out My Face", for which a music video was released.
Career Breakthrough
In November 2010, Nicki Minaj released her first studio record, Pink Friday. The record was a resounding success – Minaj became the first singer to have 7 songs on the Billboard Hot 100 at the same time. In addition, the singles "Your Love" and "Super Bass" topped many US charts. At the same time, Nicki Minaj conducts her first mini-promo tour of major U.S. cities and visits her native St. James as a personal initiative with a concert.
The debut album elevated Nicki to the highest echelon of global stars. A period of her collaborations with world-renowned artists such as David Guetta, Will.I.Am, Kesha Sebert, Mia, Madonna, Alicia Keys began. The rapper became a regular on the show, and her bodacious form became a household name in the music scene. Nicki herself is not ashamed to shock the audience neither her figure, nor clothes, nor "doll" hair colors, and she does not like to be compared with Lady Gaga.
In 2012 Nicki started recording her second album, Pink Friday: Roman Reloaded.
The third record in the "pink series," "The Pinkprint," was released in December 2014. The singer pays tribute to the color pink in her images, in which it is always present in one way or another, and even repainted her own car Lamborghini Aventador in pink.
In 2015, Nicki recorded the track "Hey Mama." The composition became a global hit, the refrain of the song "Hey Mama" never left the radio frequencies, and the track confidently took high positions in the music tops.
In 2016, in support of Ariana Grande's studio album "Dangerous Woman," Nicki Minaj recorded the track "Side To Side. The composition was the third song in support of the colleague's album.
In early 2017, Minaj presented the song and video "No frauds." Together with Nicki the composition was performed by Drake and Lil Wayne. In the spring of 2017, the singer released a music video for the track "Swalla" of the same name, recorded together with Jason Derulo.
Also in 2017, the singer recorded the singles "Kissing Strangers", "Run Up" and "Make Love", released without an album. The compositions were co-written with other musicians.
How many albums does Nicki Minaj have?
The talanted rapper has four albums and fans are hoping a fifth is on the way.
Pink Friday – released November 22, 2010
Pink Friday: Roman Reloaded – released April 2, 2012
The Pinkprint – released December 12, 2014
Queen – released August 10, 2018
Nicki Minaj in Movies
In 2012, she voiced the snooty teenage mammoth Steffie from the animated film Ice Age 4.
In 2013, she starred in the Hollywood romantic comedy The Other Woman. On the set, she had the chance to work with Cameron Diaz, Kate Upton, Nikolaj Coster-Waldau and other famous actors. Nicki plays Lydia, the self-assured assistant of the main character.
In 2016, the singer appeared in the comedy "Barbershop 3" starring rapper Ice Cube. For this role, Nicki was nominated for the Teen Choice Awards.
What is Nicki Minaj's net worth?
As a rapper and singer, Nicki Minaj is known not only for her headstrong style but also for her straightforwardness, with which she does not keep quiet. But maybe that's exactly her recipe for success. After all, the rapper and singer, who comes from the rather poor Trinidad and Tobago, now has an estimated net worth of 100 million dollars.
Nicki Minaj's Cars
Although Nicki Minaj is good with money, she also likes to fulfill one or the other dream. For example, she is the proud owner of a pink Bentley, Range Rover and Lamborghini and thus causes quite a stir not only with her looks but also with her cars. Her Lamborghini Aventado alone is said to have cost 400,000 US dollars.
Nicki Minaj perfume line
The fact that pink is the declared favorite color of the exceptional rapper can be seen not only in her cars. Because also her perfume is called "Pink Friday." In the meantime, the thoroughbred musician has already launched 3 perfumes on the market, the first of which appeared in 2012. Whether Nicki Minaj suffers from a portion of megalomania, however, remains to be seen. After all, the perfume bottles in which she sells her noble fragrances were modeled after the rapper's head. In 2012, the well-known makeup brand MAC also took notice of Nicki and in the same year she was named the face of the "Via la Glam" campaign. The rapper also collaborates with Myx Fusions, a company that distributes wine and sangria. So, besides her music career, Nicki Minaj has many other sources of income, some of which have brought her even greater earnings, with her time on "American Idol" being the best example.
Who are Nicki Minaj Parents,Carol and Robert?
The girl's parents, Carol and Robert Maraj are of Indian and African descent. Robert worked for the American Express Courier Service, and Carol was pursuing higher education. When the girl turned 5, she moved in with her parents, but it was hard to call her life happy. Soon her father became addicted to drugs and addicted to crack cocaine. He beat his wife and children, pawned furniture, and one December night in 1987, he tried to burn down the house while Carol was inside. Fortunately, she escaped unharmed. Robert later overcame his addiction and became a model family man. But in those years, living with him under the same roof was a nightmare. Nicky consoled herself with the thought that she would grow up, succeed, and change everything.
Tragedy struck the family of one of Hollywood's brightest singers. On Friday, February 12, 2021, singer Nicki Minaj's father died.
Robert Maraj was struck by a car at the intersection of Roslyn Road and Raff Avenue in New York. The 64-year-old man was taken to the hospital in time, but medics were unable to save him.
Nicki Minaj Ex-boyfriends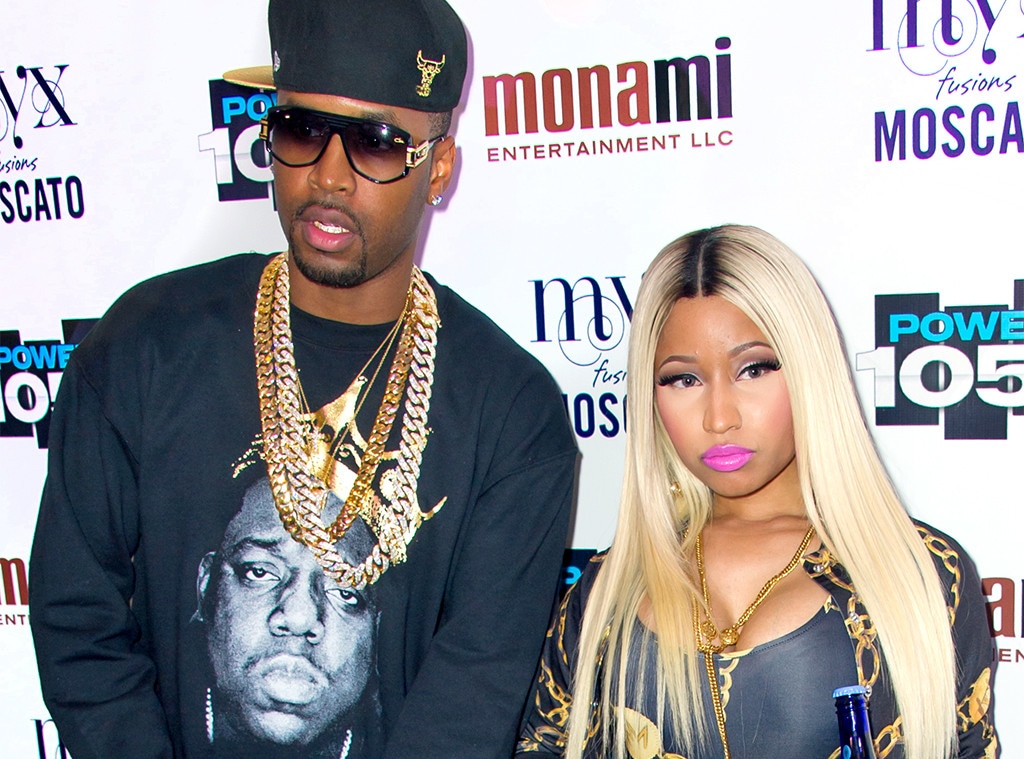 From 2008 to 2014, she was romantically involved with rapper Safaree Samuels. Many songs from the album "Pinkprint" show the background of their relationship, in particular the song "Bed of Lies". About the reasons for the breakup, the young man stated the following: "I just packed up and left. I realized that she didn't respect me.
The singer was then credited with an affair with rapper Drake, but apparently they are just good friends.
From 2015 to 2017, Minaj's boyfriend was rap singer Meek Mill, who was five years younger than her. Shortly after the relationship began, he proposed to Nicki. As alleged in the media, the reason for the breakup was the unreadiness of the guy, who also had serious problems with the law, for family life.
After that, the singer dated the rapper under the pseudonym Nas for a few months. They had known each other for a long time, and even kissed during the music video for Minaj's song "Right By My Side".
Nicki Minaj's husband
Kenneth "Zoo" Petty was just 16 years old when he was convicted of attempted first-degree rape in 1995. He served nearly four years in New York State Prison and was subsequently required to register as a sex offender. Shortly thereafter, he met and fell in love with U.S. rapper Nicki Minaj and was locked away once again not long after: As reported by "The Blast," on April 27, 2002, he himself allegedly shot a man named Lamont Robinson several times in the chest shortly after midnight; the victim was pronounced dead at the scene. In 2013, the gangster was released again and had to wear an electronic ankle bracelet equipped with GPS until May 2018 …
But Minaj does not seem to mind these facts, instead she gave her childhood friend another chance and declared, among other things, to the attempted rape:
"He was 15, she was 16 … and they had entered into a relationship. […] You all can't ruin my life. You can't even manage to ruin your own lives. "Re-arrest
In the fall of 2019, Zoo and Minaj finally took the next step and pledged their eternal love and fidelity. On her Queen radio show, the rapper explained about the move, "I have to work on my new album and have a lot to focus on. For that reason, I don't want a big wedding right now. We are planning a big celebration later. I'll be married before my next LP is released, but I won't have my wedding until after it's released. So yes, before those 90 days are up, I will be married" and have been calling myself Mrs. Petty ever since.
However, Minaj may not really be able to spend much time with her husband in the future: As TMZ reported, Kenneth was arrested in Los Angeles after he failed to officially register as a sex offender. According to the report, the gangster violated his obligations to regularly inform U.S. authorities of his whereabouts and provide them with updated photos, and could be sentenced to up to ten years in prison for failing to register
On Wednesday, March 04, 2020, Kenneth was brought before a magistrate and reportedly pleaded not guilty. The prosecution also demanded house arrest for the sex offender, the lawyer of Nicki Minaj's husband contradicted that postulate. If you believe the information from the "Fox News", Zoo is not allowed to leave the state of California, to which he had moved in the summer of 2019, until the trial on March 23, must wear an electronic anklet and deposited a six-figure bail.
Nicki Minaj son
At the end of September 2020, Nicki Minaj and her husband Kenneth Petty became parents for the first time – the couple had a son. The couple carefully concealed the name of their baby.
A family friend also explained that Nicki decided to have a partner delivery. During the process her husband was in the same room with her and supported her.
A year ago, Nicki dreamed of leaving her career and devoting herself to her family. "I'm leaving music and choosing family. All the haters will be happy, and the loyal fans will always stay with me," Nicki said. Six months later, however, she returned to the stage.
Who is richer Nicki Minaj or Cardi B?
Nicki Minaj has won numerous awards, from the American Music Awards (2011), BMI Awards (2012), to the People's Choice Awards as "Best Hip-Hop Performer" in 2013, and the YouTube Music Awards in 2015.
Cardi B. was nominated for a Grammy for Best New Artist in 2017 and topped the Billboard Hot 100 chart with her song Bodak Yellow. The singer won a Grammy for her 2018 debut album Invasion Of Privacy. She won multiple MTV Video Music and Billboard Music awards in 2018 and was named "acting hip-hop queen."
Read Also: 10 Inspirational Nicki Minaj Quotes
Minaj has released 4 studio albums and 3 compilations of her songs, and in addition, she also has over 70 songs in her catalog that she has contributed to as a co-writer. Her label Young Money has announced $100 million in net worth for Nicki Minaj as of 2020.
Cardi B. has released just one studio album, 27 singles and 14 music videos. Even so, Forbes and TecroNet reported that her net worth as of 2020 is $80 million. No doubt it won't take long for Cardi B to catch up and overtake Nicki Minaj.
How Does Nicki Minaj Spend Her Money?
If you're already rich, you can buy even more. Thanks to Nicki Minaj's incredible fortune, she can easily afford expensive cars and a huge mansion. Her Lamborghini is said to have a value of almost half a million, her house in Malibu has an estimated value of about 12 million US dollars.
In numerous interviews, the artist says that she likes to spend a lot of money on clothes and accessories, such as bags. That is said to have been sometimes up to 50,000 dollars a month, yes, a month. Because brands like Louis Vuitton, Fendi and co are not exactly cheap. For her fancy outfits, of course, costs are incurred as well as for her music video productions. She reportedly spent around seven million on the shoot for the song Remis Ma Ain't Got Money.
Since she herself comes from a difficult family background and had to work for everything herself, Nicki Minaj has a completely different idea of how she can invest her income sensibly.
So she has offered several students to pay for their education, because whoever wants to have an income like Nicki Minaj's should invest in education, according to the singer. The rapper has a heart for her fans, because it is thanks to them that she has sold more than 20 million singles as a solo artist and around 60 million as a co-artist.
The end of her career is still a long way off for the all-round talent. Fans can look forward to many more projects from the star. And it certainly won't hurt her bank account.
Nicki Minaj Real Estate Tour 2021 | Inside Her Multi Million Dollar Beverly Hills Home Mansion
Who is the richest woman rapper?
Nicki Minaj has just made history as the richest woman in rap music. The rapper has now reached a whopping net worth of $100 million, Young Money announced on social media.
Nicki Minaj Career Earnings By Year
| | |
| --- | --- |
| Year | Earnings |
| 2010 | $4 million |
| 2011 | $6.5 million |
| 2012 | $15.5 million |
| 2013 | $29 million |
| 2014 | $14 million |
| 2015 | $21 million |
| 2016 | $20 million |
| 2017 | $16 million |
| 2018 | $10 million |
| 2019 | $20 million |
| 2020 | $10 million |
Total = $166 million (before taxes)
Nicki Minaj tattoo
Here she is in all her baby bump glory. What you see on her arm, however, is one of the biggest regrets of her life. We are talking about the writing in Chinese characters that means God is always with me: "In time I have bitterly regretted it, I did it when I was only 16 years old and I was too immature to decide with conscience. That's why I would put the obligation to do it at 21, perhaps, at least in my case, I would have been more aware."
Nicki Minaj photoshoots
FAQ:
How many sisters does Nicki Minaj have?
Nicki Minaj only has one sister, she is the youngest and her name is Ming
Does Nicki Minaj really have a twin?
Nicki Minaj doesn't have twins. She has a younger sister who looks a lot like her, and she made up her evil twin alter ego.
Is Nicki Minaj the oldest sibling?
Nicki Minaj is not the oldest of her siblings. She has an older brother named Jelani, a younger brother Micaiah and a younger sister Ming
Is Nicki Minaj a billionaire?
Nicki Minaj is not a billionaire, although her fans would probably like her to be. Rihanna became the only songwriter whose fortune is estimated at more than a billion dollars
How old is Nicki Minaj?
American rapper, queen of the rap/hip-hop genre musician,Nicki Minaj born December 8, 1982, she is 38 years old
Does Nicki Minaj have a Grammy?
Nicki Minaj has been nominated 10 times, Nicki has never won a Grammy and fans do not think it's a coincidence.
Does Nicki Minaj Have a Baby?
Minaj gave birth to her baby on Sept. 30 in Los Angeles, the name of her son Minaj keeps secret
What is Nicki Minaj's real name?
Onika Tanya Maraj-Petty is really the name of the rap queen, Nicki Minaj
Why was Nicki banned from the Grammys?
When the 2021 Grammy Award nominations were announced, Minaj took the Recording Academy to task for not recognizing her impact. "Never forget the Grammys didn't give me my best new artist award when I had 7 songs simultaneously charting on billboard & bigger first week than any female rapper in the last decade- went on to inspire a generation," the 10-time Grammy nominee (who has yet to win) wrote on Twitter. "They gave it to the white man Bon Iver."
Who did Nicki Minaj lose Grammys to?
From 2010 to 2015, Nicki Minaj was nominated for 10 Grammys. The rapper lost best new artist to Bon Iver in 2011, and to Kendrick Lamar in all three of her nominated categories in 2015.
Did Nicki Minaj and Lil Wayne date?
Nicki Minaj has not dated her label owner Lil Wayne, they are rather good friends.
Did Nicki Minaj date Drake?
Drake and Nicki Minaj are incredibly close friends, both rappers have never confirmed a romantic relationship
Did Tom Holland date Nicki Minaj?
Tom Holland and Nicki Minaj have never built a romantic relationship. It is just a fake relationship created by the internet.
Does Nicki Minaj speak Spanish?
Nicki Minaj can speak some Spanish. She may not be fluent, but she can speak a few phrases in Spanish.
How tall is Nicki Minaj?
At 38 years old, American rapper, singer, and songwriter, Nicki Minaj's height is 5 ft 1 in (157.5 cm).
Is Nicki Minaj from Sri Lanka?
No, the Queen of Hip-Hop, Nicki Minaj was born in Trinidad and Tobago